Time of Moon Sighting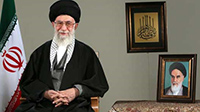 Time of Moon Sighting
23. As you know, one of the following three things occurs at the beginning or end of the each month: The crescent sets before the sunset; or the crescent sets along with sunset; or the crescent sets after the sunset. Please let us know which one of the three above-mentioned things is considered as a valid sighting of the new moon.
A: In all three cases moon sighting is considered valid starting from the night after its occurrence.
24. In some countries (like Sweden), it is not possible to see the moon from sunset up to two three days after its sighting in Iran because moon sets before sunset. To establish the month of Shawwāl, does it suffice to see the crescent before sunset?
A: It suffices to consider the night after sunset as the start of new month if one is sure that the crescent can be seen before sunset.
Source: Hadana adopted from the Istiftaat of the Grand Ayatollah Khamenei