Sex between Spouses While Fasting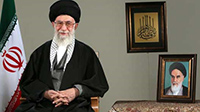 Fast Invalidators
Sex
Sex between Spouses While Fasting
During the month of Ramadan a man had sexual intercourse with his wife with her consent. What is the rule concerning them?
The rule of intentional breaking of the fast applies to both of them. Hence it is obligatory for both of them to perform its qaḍā' along with kaffārah. 
Source: Hadana adopted from the Istiftaat of the Grand Ayatollah Khamenei