Regions of the Same Latitude as to Sighting the Crescent
Regions of the Same Latitude as to Sighting the Crescent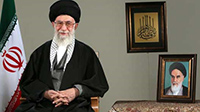 Regions of the Same Latitude as to Sighting the Crescent
31. North Canada is located at the same latitude as England, are they considered as having the same horizon?
  A: The mere being located in the same latitude is not sufficient; rather, criterion is corollary between sighting the moon in one country and the possibility of sighting it in another one.
Source: Hadana adopted from the Istiftaat of the Grand Ayatollah Khamenei