During the Day, One Comes to Know It Is Ramadan
During the Day, One Comes to Know It Is Ramadan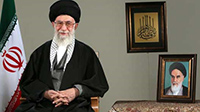 During the Day, One Comes to Know It Is Ramadan
16. If they declare — before 'noon' — that it is the first day of Ramadan, what should we do for fasting of the same day?
A: If you have not done any fast invalidator, you should intend to fast, and fast. After Ramadan month, you should perform its qaḍā' as well. If you have done one of fast invalidators, your fast is invalid. You should refrain from fast invalidators until maghrib — as a respect for the holy month of Ramadan — and perform its qaḍā' After Ramadan month.

Source: Hadana adopted from the Istiftaat of the Grand Ayatollah Khamenei